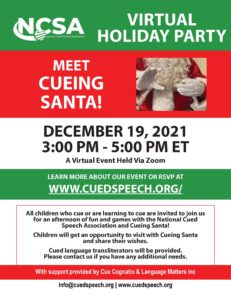 The NCSA is hosting a virtual holiday party via Zoom on Sunday, December 19, 2021, from 3:00pm to 5:00pm Eastern time. Santa will be there and he cues!
Children who cue or are learning to cue are invited to join us for an afternoon of fun and games with the National Cued Speech Association and a Cueing Santa!
Children will get an opportunity to visit with a Cueing Santa and share their wishes.
Cued language transliterators will be provided. Contact us if you or your child(ren) have any additional needs.
Pre-registration is required. Click the registration link below to register.