The Deaf Children's Literacy Project (DCLP) is a guided program to support families with children who are deaf, hard of hearing, and/or have various processing disorders and who may benefit from Cued Speech to achieve age-appropriate language and literacy acquisition.
The DCLP:
Provides resources for developing cueing proficiency to promote language acquisition and literacy at home and in schools,
Collaborates with state early intervention (EI) agencies and family-based organizations (FBOs), and
Supports families through individualized mentorship.
Free NCSA Membership and DCLP Parent Kits for Families New to Cueing
Families who sign up for a DCLP Parent Kit will automatically receive a one-year FREE membership to the NCSA and FREE access to a Cued Speech course, as well as one DCLP box every three months for one year. Each box contains information and resources for establishing a strong language and literacy foundation, which enables parents/caregivers to support their child meeting age-appropriate language and literacy milestones.
DCLP boxes include resources such as:
DCLP Children's Kits For Families New to Cueing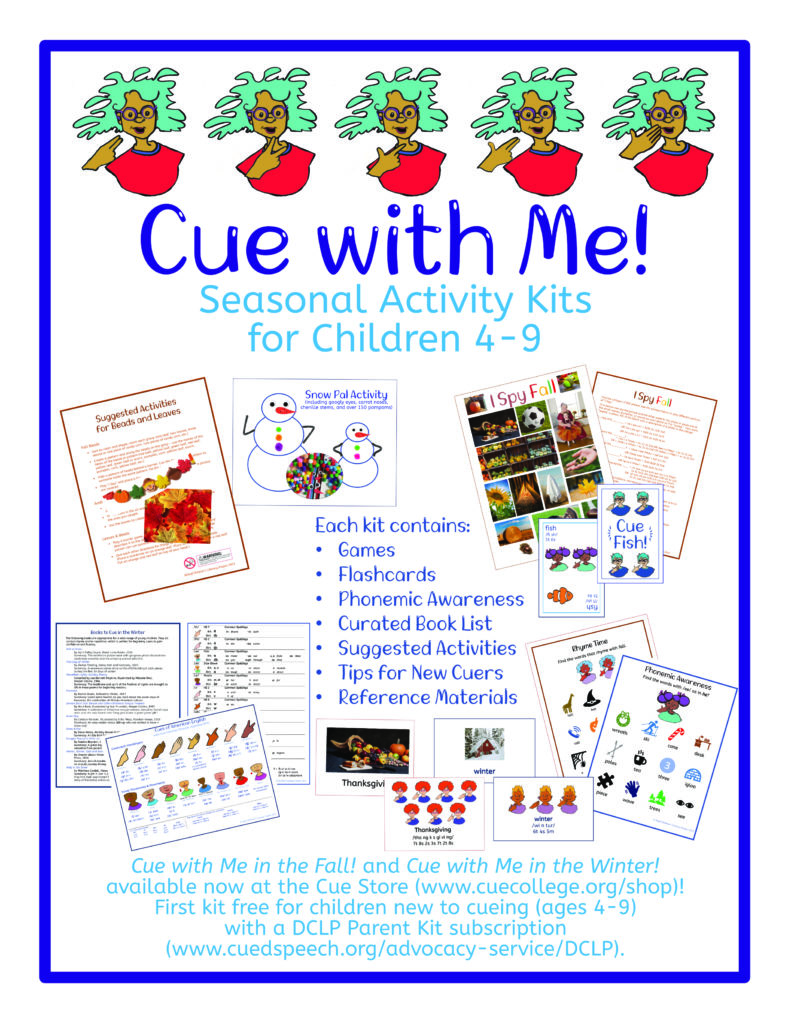 The NCSA now offers seasonal-themed DCLP Children's Kits, each kit consisting of a single box full of engaging learning activities to support children learning Cued American English sold in the Cue College Cue Store. Families who receive the free DCLP Parent Kit are able to order one FREE seasonal DCLP Children's Kit, and purchase the other three seasonal DCLP Children's Kits at half-price, with coupon codes received in each box of the DCLP Parent Kit. (Information about how to order the Children's Kits in the Cue College Cue Store is included in each DCLP Parent Kit.)
Making Connections
We coordinate with state Early Hearing Detection and Intervention (EHDI) specialists and family-based organizations such as Hands & Voices state chapters to ensure that accurate information and resources for Cued Speech are available to parents in every state.
From cue camps to our Cuemmunity Directory, we have a rich network of parents, professionals, instructors, cued language transliterators, and mentors, searchable by location. Whatever you need, we will point you to local or virtual contacts who can provide resources, support, and assistance. This may include directing you to a cue camp or workshop, connecting you with an NCSA Regional Representative, Cued Speech Instructor, and/or a family cue mentor.
Several of our Regional Representatives and members of the cuemmunity volunteer as family mentors. To learn more about how we foster family mentorship, visit our CLEAR page.
To request your FREE NCSA membership and DCLP Parent Kit, complete the form below.
(Note: This offer is available only to U.S. residents. Parent Kits are slated to be shipped in early spring. Filling out the form below will put you on the list to receive one.)