Check here often for upcoming cueing-related events, workshops/courses, conferences, and cue camps throughout the country. Come to an event to learn and practice your cueing and connect with families and professionals!
Apply for NCSA Co-Sponsorship and Financial Assistance for a Cued Speech Camp or Workshop [.docx]
---
National Fall Board Meeting & Training Seminars
Oct. 21-23 in Portland, ME. Visit here to learn more.
---
2022 NCSA Webinar Series
The NCSA has launched a monthly webinar series, with a different topic each month. All webinars will take place on Tuesdays at 8:00pm Eastern time. For more information about each session and to register, click the the Registration link for each month. Check back regularly for updates!
Date
Time
Topic
Presenter
Info/Registration
January 11
8:00pm
What Is Cued Speech?
Sarina Roffé
Flyer
February 8
8:00pm
How Cued Speech Supports Language and Literacy Development
Donna Morere
Flyer
March 8
8:00pm
Meet a Former NCSA Scholarship Winner
NCSA
April 5
8:00pm
Your Home Is a Learning Laboratory
Sarina Roffé
Flyer | Registration
May 10
8:00pm
Learn about the DCLP Kits!
Rachel McAnallen
Amy Ruberl
Polly Earl
Watch the Video
Sept. 13
8:00pm
The use of Cued Speech with Children with Disabilities other than Deafness
Dr. Donna Morere
Register Here
PDF Flyer
Oct. 11
8:00pm
Visual Supports for Literacy: Comparing Cued Language and Visual Phonics
Dr. Cathy Rasmussen
Register Here
PDF Flyer
2022 Cuemmunity Events
August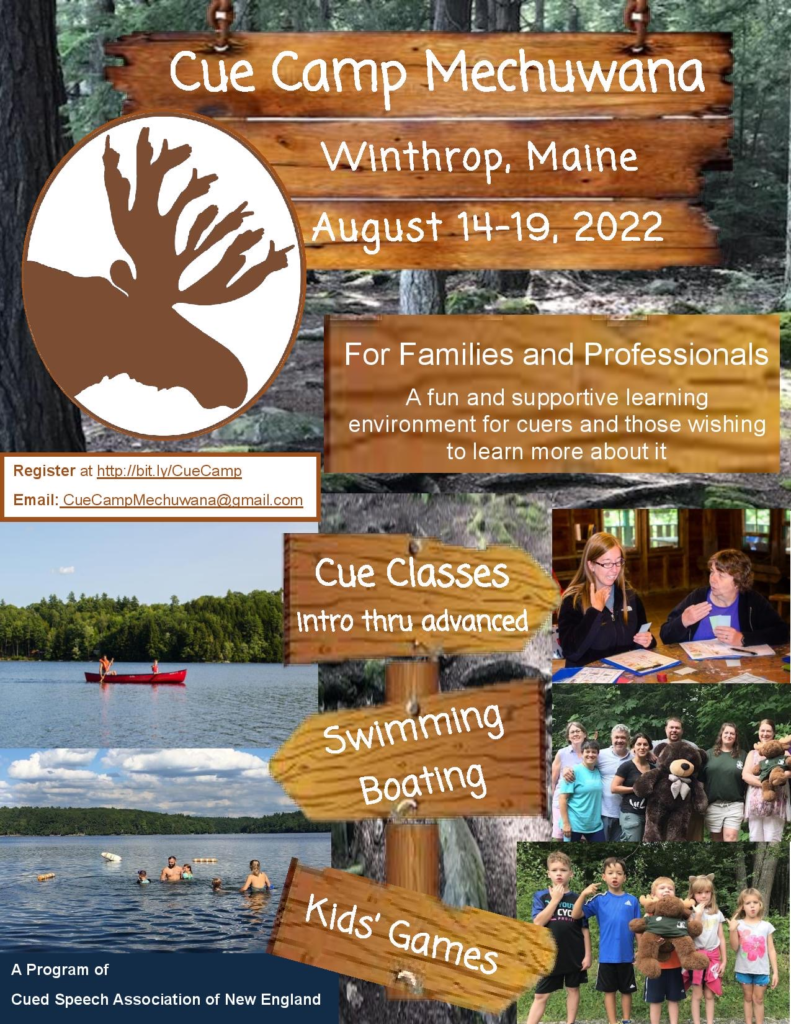 Cue Camp Mechuwana: August 14-19, 2022
Winthrop, Maine
Contact the Camp Board: Email
May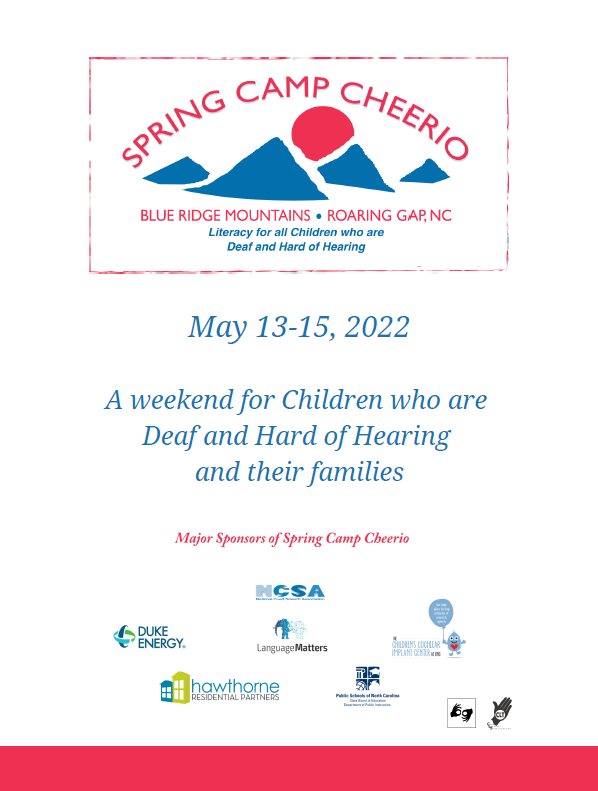 April – May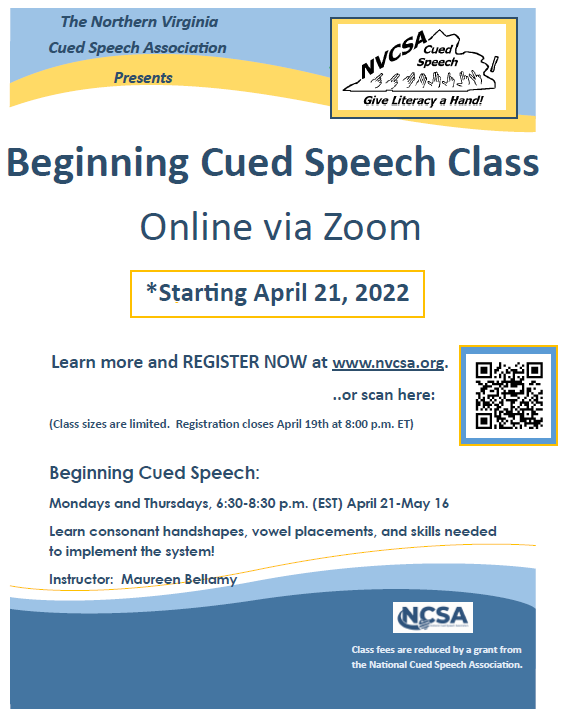 NVCSA Beginning Cued Speech Class: April 21-May 16, 2022
Mondays and Thursdays, 6:30-8:30pm Eastern, via Zoom
There is no prerequisite for this course. Class consists of 8 sessions held twice weekly on Monday and Thursday evenings. Participants will learn and practice the entire Cued American English system and will receive the tools needed to implement it independently.
March – May
Cued Speech Association of New England
Spring 2022 Online Classes, beginning late March
Introduction to Cued American English
Mondays, 6:00-8:00pm Eastern
March 28–May 2
Continuing Cueing: On the Road to Fluency
Thursdays, 6:30-8:00pm Eastern
March 24–May 12
Intermediate Cueing Skill Development
Wednesdays, 6:30-8:30pm Eastern
April 13–May 18
Cueing Practice Sessions for Advanced Cuers
Tuesdays, 6:30–8:30pm Eastern
March 8–April 12
January
NCSA Webinar with Sarina Roffé – What is Cued Speech?
Join us for the first webinar, "What is Cued Speech" with Sarina Roffé on January 11, 2022, at 8 pm ET.
Cued Speech Association of New England
Winter 2022 Online Classes, beginning in January
Introduction to Cued American English
Thursdays, 6:00-8:00pm Eastern
January 6–February 10
Continuing Cueing for Beginning Cuers
Tuesdays, 6:30-8:00pm Eastern
January 4–February 22
Intermediate Cueing Skill-building
Wednesdays, 6:30-8:30pm Eastern
January 12–February 16